How to Use Plants to Decorate Your Porch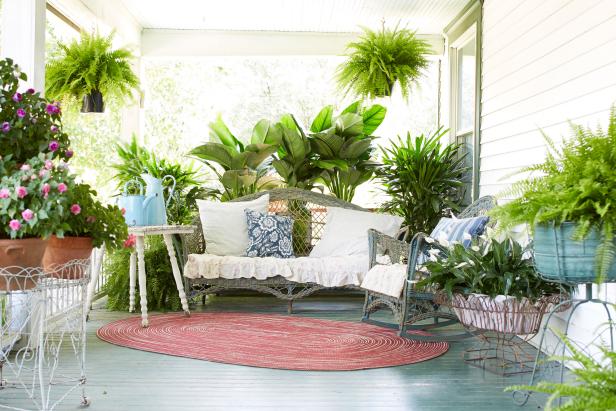 Coming up with the right decor scheme for your outdoor living space doesn't have to be difficult. Not are you limited to just furniture and accessories for a true pop of color. Here are four ways to use plants to decorate your new homes porch.
How to Use Plants to Add Color
One easy way to add color to your porch is with flowering plants. Examples include Hydrangea, Tutti Frutti Apricot Delight Yarrow, and Pink Muhly Grass. All feature bold coloring ideal for spicing up the look of your front entry and impressing guests.
How to Use Plants for a Desert Vibe
If you're looking to give your porch a bit of an edgy vibe, adding desert plants is a great idea. Succulents like Burros Tail, Rosum, and Snake Plant need minimal care and provide ample beauty to update the look of the space. Plus, they require little water.
How to Use Plants for a Romantic Appeal
Looking for that perfect romantic appeal? Scented florals in galvanized containers provide a whimsical look popular in-home decor magazines. Think blooming botanicals such as Clematis, Gardenia, and Shrub Rose.
How to Use Plants for a Minimalist Look
If minimalism is your style, never fear. It's still easy to add plants to your porch to create a cohesive aesthetic. A small Sago Palm inside a square pot or grasses like Orange New Zealand Sedge gives your outdoor space a bit of greenery and color without looking too cluttered.
Selecting the right plant to decorate your porch doesn't have to be difficult. These great options give you all the style and color you need to match your own unique taste.